Which payment plan best suits your needs?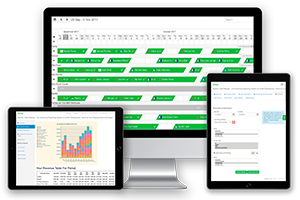 Both plans come with all standard Vreasy features
Pay per use
Varies with the number of reservations
Monthly subscription
Same payment every month
Synchronized listings on Airbnb, booking.com, homeaway, TripAdvisor…plus reservations, guest, owners and extra services mangement are all included — and a one time free covers full onboarding and training.
Calculate your monthly cost
Number of properties you manage:
–
Pay per use plan
---
With reservations per month on average, you'd pay:
/month
Monthly subscription plan
---
Fixed monthly fee:

/month
Vreasy provides the best value for money in the industry.
Compare prices for – properties and – average monthly reservations
Your best price
with Vreasy
PMS 1
3%/reservation
PMS 2
5%/reservation
PMS 3
"It's complicated"
PMS Percentages have been calculated based on an average booking value of
Any questions about pricing?
More Questions?
Any question about pricing that we didn't cover? Contact us at sales@vreasy.com and we will get in touch as soon as possible.